March 16, 2022 |
Carl Stanton
This St. Patrick's Day, don't feel confined to the standard holiday fare. Elevate your gathering with Westwood's 2019 Estate Roussanne / Viognier. A medium-bodied wine that offers an alluring orchard-fruit nose of ripe peach, and pear, as well as notes of lemon candy, honeysuckle and wet stone minerality. The lovely fruit continues on the palate where the pear is accompanied by distinct notes of waxy raw honey, accentuated by harmonious acidity, with hints of lemon cream and sweet thyme.
Want a delicious pairing for our Estate Roussanne / Viognier? Try this decadent baked brie with hazelnuts and honey. The flavors perfectly complement this medium-bodied wine.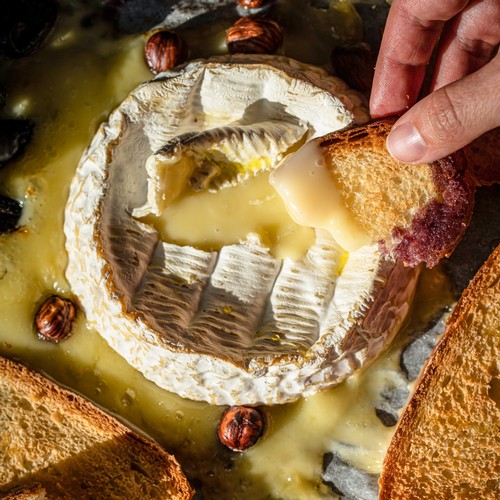 Hazelnut Baked Brie
Ingredients
1 (8-ounce, 225 g) round of brie
1/4 cup (32 g) toasted hazelnuts (skins removed), lightly chopped
1/2 cup (120 ml) apple cider vinegar
5 Tbsp (75 ml) honey, brown sugar, or maple syrup
Pinch of salt
1 small sprig rosemary
Preheat the oven to 350°F (175°C).
If starting with raw hazelnuts, toast them by spreading them out on a sheet pan and roasting them in a 350°F for 15 minutes, or until the skins start to split. Remove from oven and place in a clean dish towel, rub to remove the outer skins.
Sauce
Place the vinegar, honey, salt, and 5 or 6 needles from the rosemary sprig into a small saucepan. Stir to combine. Heat on medium high heat until simmering. Lower the heat to low and simmer until the mixture starts to darken in color and the consistency thickens to a thin syrup, about 5 to 10 minutes, being careful not to overcook. Remove from heat and stir in the toasted hazelnuts.
Brie
While the sauce is simmering, start on the brie. Use a serrated knife to slice off the very top of the brie round, exposing the cheese on one side. Place on a parchment paper or Silpat lined baking sheet (cut side up). Bake until just soft and bubbly, about 15 minutes.
Drizzle the brie with sauce
Remove the brie from the oven and let it cool slightly for a minute or two. Use a spatula (or two) to carefully transfer it to a serving dish. Drizzle the honey vinegar hazelnut sauce over the brie. Garnish with the sprig of rosemary.
Serve with sliced tart apples or other fruits and a glass of Westwood's 2019 Estate Roussanne / Viognier