January 21, 2022 | Carl Stanton
Chocolate-brownie Cookies Recipe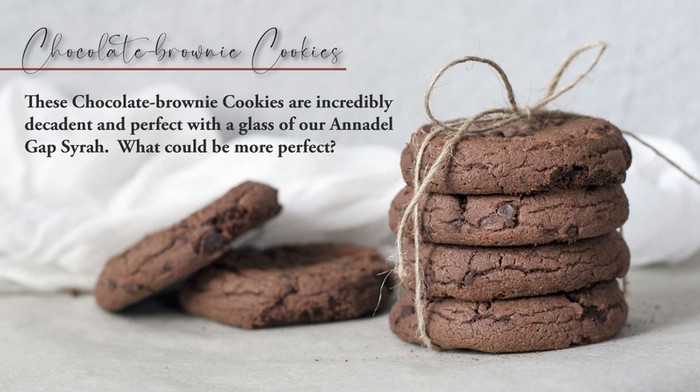 These Chocolate-Brownie Cookies are incredibly decadent and pair perfectly with a glass of our Annadel Gap Syrah. It just doesn't get any better.
1 pound Semi Sweet Chocolate Chopped
4 Tablespoons Unsalted Butter
4 Large Eggs, at Rooom Temperature
1 ½ Cups Sugar
1 Teaspoon Pure Vanilla Extract
¼ Teaspoon Salt
½ Cup All Purpose Flour, Sifted
½ Cup Teaspoon Baking Powder
One 12 Ounce Bag Semisweet Chocolate Chips
In a large bowl set over a saucepan of simmering water, melt the chopped chocolate with the butter, stirring a few times, until smooth, about 7 minutes.

In another large bowl, using a handheld electric mixer, beat the eggs with the sugar at medium speed until thick and pale, about 5 minutes. Beat in the vanilla and salt. Using a rubber spatula, fold in the melted chocolate, then fold in the flour and baking powder. Stir in the chocolate chips. Scrape the batter into a shallow baking dish, cover and freeze until well chilled and firm, about 1 hour.

Preheat the oven to 350° and line 2 baking sheets with parchment paper. Working in batches, scoop 2-tablespoon-size mounds of dough onto the prepared baking sheets, about 2 inches apart. Bake for about 10 minutes, until the cookies are dry around the edges and cracked on top. Let the cookies cool on the baking sheets for 10 minutes, then transfer to a rack to cool completely before serving.
Cheers!