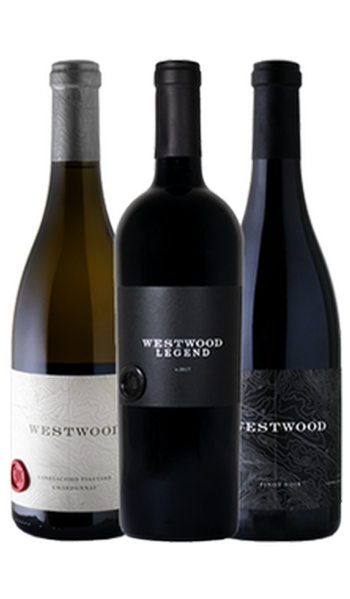 Spring Trio 3 Pack
2019 Sangiacomo Chardonnay | 96 Points
"Vibrant lemon blossom and wet stone on the nose, with allspice,
almond, and crème brûlée on the palate. Exquisite mouthwatering
acidity is wrapped in a creamy texture before a long, mineral-driven
finish in this wine made from certified-sustainable Petaluma Gap
grapes."

2018 Westwood Legend Red Blend | 97 Points
"In its third vintage, this superbly expressive red blend of Cabernet
Sauvignon, Syrah, and Mourvedre emits scents of jasmine, plum
blossoms and cafe mocha. Winemakers Philippe Melka and Maayan
Koschitzky fermented the wine in closed-top stainless steel tanks as
well as a French oak upright tank. Aged in 30% new French oak for
20 months."

2016 Calera Pinot Noir | 93 Points
"Juicy, savory and earthy, this is a gorgeously complex and
expressive wine from one clone, brimming in dried herb, sage and
firm tannin. Structured and offering breadth across the balanced
palate, it finishes in bright tangy acidity."